Name:Takari Amieali
Nickname: Taka
Age:17
Gender:female
Species: Dragon-elven
Sexual Orientation: straight
Physical Description:When she is in her elven form she has dirty blonde hair and is dark tan with pointed ears and saphire blue eyes that can turn to green depending on her mood. she is about 5'7'' and has a curvy athletic build. in her half form she has silver hair with light blue natural highlights and is about waist length (its always braided) she has saphire blue dragon eyes that start to change white when she's angery to pure black when she's excited and silver curved dragon horns on the top of her head that curl back over her head. She has pointed elven ears with three peircings on each one,she has pointed canine teeth on top row. she grows to about 6' tall and is dark tan. she has curves but has a very athletic build. graceful movements and cat like grace. She has dark navy blue dragon wings that are bigger than her by a couple inches and a dark blue dragon tail with a fin around the tip of the tail like a fish her fingernails are replaced with sharp claws and her skin is super soft yet tough to cut. she usually where's baggy pants with big pockets to carry small things in and wears tank tops or belly shirts with a short sleeve jacket over it. she has three silver earrings in each ear two at the bottom and one at the top. she has a silver chain necklace with a blue dragon wraped around a pentacle as the charm, she also wears fingerless black gloves and silver braclets. she occasionally wears shoes but other than that she prefers bare feet when in this form.In full form she is a 10' tall blue scaled water/ice dragon with the magic of the dragons and the elves. she has black horns and webbed spines from her head to her rump. she has silver claws and pure white teeth and light blue wing membranes.
Elven form: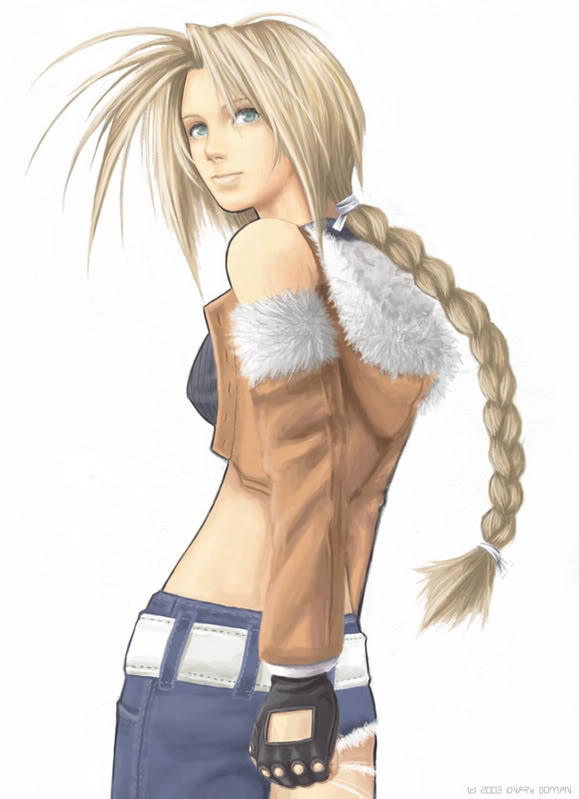 Spoiler:
Half form:
less armor like and with a tail and light blue streaks in the hair
or
Spoiler:
Dragon form:
Follower: blue water dragon (Jara is Takari's best and only friend she is about 15ft high and is dark blue with a wing span of 33ft. From head to tail run dark blue spiked fins. She has pearl white teeth and claws with deep sapphire blue eyes her length is about 15ft from head to tail not including the tails fin. Her horns are of the strongest material and are silverish white. She has been with Takari since the day she was born and has never left her side. She, like all other people, has the ability to talk and use dragon magic. Her weapons are of course the dragon fire which is blue fire and also the frozen breath which can freeze anything. She also when in great need can summon up a crystal like sword when Takari is in dier need.)
Personality:on first impressions she can seem very harsh or shy especially when its a guy that she likes but once you get to know her she can be very outgoing and fun to be with. she is very emotional but knows how to control her emotions and keep them intact and can be very protective over the people she cares for the most especially close friends. she can be very layedback if nothing motivates her but once she has made up her mind not much can change it. very loyal and a great allie to many she is usually the peacemaker and prefers to talk things out before going into a fight.
History: when she was still young humans attacked her family and killed everyone except her because she was hiding. unable to remember much she longs to find any living decendant of her family. she travels around with her dragon companion trying to find out as much information as she can about her clan and to avenge her family. she is shunned by most elves because of her hybrid heritage but every once in awhile she manages to make a friend that will help her out of a bind. Dragons tend to be drawn to here due to her half blood heritage as a dragon so many friends of hers have become reptilian. she gets along with any species due to the fact that she was never tought to hate any particular species except humans.
Roleplay: A place to call home