First Name- Deo (meaning godlike in greek)
Middle Name- Gregory (meaning Vigilant in greek)
Last Name- Bedros (meaning stone in greek)
Age- 17
Gender- Male
Sexual outlook- Strait
Name of god parent- Hades
Clan Rank- Worrier
Physical apperience- He is 6' tall and has short black hair with dark brown eyes. He has a tight slim body but is built. His standerd close are his black lether pants and shirt. he has a standerd sheild and sword that he also weres at all times. He does have spears and bows tied to his back when in a battle, but when he is not its just the sword. He has lether boots and has a silver belt. He wears cloth around his arms and hands to play with Shadow the hellhound.
personality- He is stern but nice he is a little more upbet than most other hades children but that is because of his mom. Now he does love to have fun and his idea of fun is to spare with someone who is up to him in skill. He also loves to flurt with the girls in the camp but does not go into anything serious for as his master says show a sigh of weekness and surly you are week. When he want to get some time to himself he goes to a island off the cost to the east that noone runs and the only way he gets there is by a bridge that was almost imposible to find. But loves to go there when he has a chance to.
Special power/gift- Can rip holes in the earth and summon 5 undead soilders.
(opcianal) Special pet- this was a special gift from hades this was given to him when he was little and is from the darkest pits of Hades. It is jet black with glowing yellow eyes, and when it wants to is will set itself on fire and his size will grow to that of a bear. his fangs and claws grow size. The hellhound name is shadow. And what makes his so valuable is when he dies he is like a fenics he turns to ashes and then is reborn to the state of what he was befor he was killed, and he is the only hell hound to be able to do so.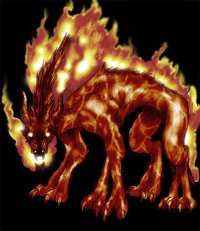 History- He grew up in th pit of hell till he was 10, but when he was there he was sent to riguras training from hades. But one thing was wrong when Hades was trying to get more soilders in his army he made the mistake of maiting with one of Artemis kids and that is why he is a little different than the others and why he has more power for he has more god in him. And when Hades saw that he could summon the dead when he was six he gave him one of his most prized hellhound as a gift.
Roplay Name- THE DEMIGOD WAR